Lightshow for restored Chichester city walls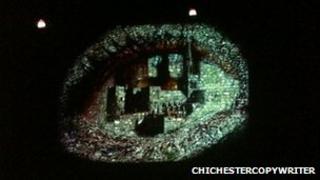 A celebration to mark the restoration of a West Sussex city's Roman walls has taken place.
Originally built by the Romans, Chichester's city walls are almost 1.5 miles (2.4km) long and are listed as a scheduled monument.
The restoration project was awarded £685,000 from the Heritage Lottery Fund and Chichester District Council contributed a further £199,000.
The celebrations on Saturday included a light show, music and a lantern parade.
A specially commissioned film about the history was projected onto the walls at Westgate Fields throughout the evening.
Councillor Eileen Lintill from Chichester District Council, said: "It has been a major project to restore the walls and now the work is complete it means future generations will be able to enjoy and learn from them."
Restoration work has involved repairing cracks and removing loose mortar from the 1,800 year-old walls.
Anchors up to 26ft (8m) long were driven through the wall in places to prevent it from leaning or bulging further.
Archaeologists and volunteers excavated more than 13,000 cubic feet (375 cubic metres) of soil revealing the huge foundation stones of a bastion - one of 70 artillery towers that once encircled the city.
Andy Howard, the City Walls project manager said: "It was just 200mm beneath the soil but had never been discovered or excavated before.
"This find alone has helped us to learn a huge amount about the walls."