Peter Andre cafe in Sussex given one star for food hygiene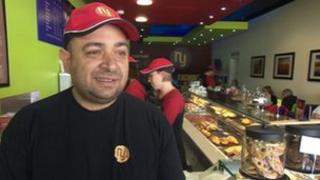 A cafe owned by pop star Peter Andre has been given one star out of five by food hygiene inspectors.
The 39-year-old opened the New York Coffee Club cafe, in East Grinstead, Sussex, in November.
Environmental health inspectors gave it a one star on the Food Standards Agency hygiene ranking, stating "major improvements" were needed.
The singer's brother and manager of the cafe, Danny, said the coffee shop was now up to standard.
He said: "The biggest reason for the [one star] was a sink out of place. So within 24 hours we put the sink in.
"There was some paperwork that wasn't up to scratch and it's all been rectified.
"The problem is being Peter's shop is that we're always under scrutiny... we try our utmost to do everything we can the right way, keep everything above board - the shop's always spotless."
He added that the health inspector would be returning in four to eight weeks.