Public meeting held over Brighton travellers' site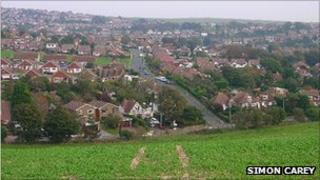 A public meeting has been held in Brighton to discuss controversial plans for a new site for travellers.
The Green-run Brighton and Hove City Council's plans for the permanent site at Horsdean were discussed on Thursday.
The meeting was organised by Hove Conservative MP Mike Weatherley who said he objected to tax payers money being used to pay for a site.
Council leader Bill Randall said the local authority had a responsibility to provide a permanent site.
He said: "It will ease the problem, but it won't of course solve it. But we do have a responsibility to provide a permanent site.
"Other authorities have done it already and we need to make our contribution.
"We have a responsibility for the health, welfare and education of travellers."
Mr Weatherley said: "I don't see why the council and the tax payers should fund a lifestyle where we'll put you in an area of outstanding natural beauty, when actually you could buy a plot of land and do the usual planning procedures."
The area of land in Horsdean was selected by the city council in December as the "best option" for a new travellers' site.
Two months earlier, several hundred people had held a demonstration in Happy Valley, Woodingdean, over plans for a travellers' site there.
The council was awarded a £1.7m grant by the government for the development of a permanent travellers' site.