Sussex Police: Brighton march 'to see counter-protests'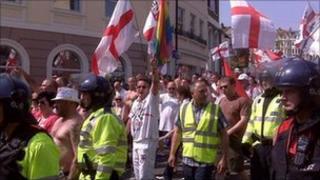 Groups planning counter-protests during a nationalist march in Brighton have been urged to contact police.
Sussex Police said the fifth annual March for England event would be held in the city on Sunday and organisers had agreed their route with the force.
Supt Steve Whitton said opposing groups had planned a counter-protest but talks with them had been limited.
He urged them to contact police so plans could be made for everyone to protest peacefully.
He said: "Engagement with opposing groups has been limited so far but we will continue to try to contact any such organisers to establish their intentions for the day."
He added: "By letting us know your plans for the protest you will also be helping us to minimise the disruption to the city."
And he said: "I am concerned that there may be some people attending this event whose intention is not to peacefully protest and whose behaviour will go beyond that which is acceptable.
"Last year there was some limited disorder, which we were able to contain.
"The policing response will continue to be firm but fair, and we will deal robustly with anyone whose behaviour goes beyond what is acceptable within the law."
Mr Whitton said March for England organisers had agreed a route from the railway station to Victoria Gardens where speeches would take place.
He urged any counter protesters to go to Victoria Gardens because numbers at the railway station would be restricted for safety reasons.
Supt Whitton said there would be a "a strong and reassuring but proportionate police presence in the city centre".
Live updates would be provided on Twitter and the Sussex Police website on the day, he added.