Christopher Hunnisett 'admitted killing in letter'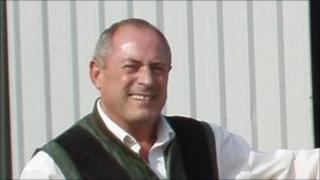 A man accused of murdering a 57-year-old supermarket worker he met for sex had admitted killing him to his girlfriend, a court has heard.
Christopher Hunnisett, 28, of Hastings, is accused of killing Peter Bick at his home in Bexhill on 11 January.
Lewes Crown Court heard he compiled a hit list of men he planned to kill to rid the world of "paedophiles", however, there was no evidence that Mr Bick was one.
Mr Hunnisett has pleaded not guilty.
The court heard Mr Hunnisett, of Chanctonbury Drive, wrote to girlfriend Lucy Anderson after he was charged saying he wanted his victim to "confess to what he was".
A post-mortem examination found Mr Bick died of severe head trauma.
In one of the letters, which was written from Belmarsh Prison, in Woolwich, east London, in January 2011, he apologised to Miss Anderson for the stress he had put her under.
'Really nasty people'
He said: "I never planned to hurt him, I just wanted to stop him, get evidence on him to get him to confess and tell people what he was."
Prosecutor Philip Katz QC said there was "not a shred of evidence" that Mr Bick was a paedophile.
Mr Katz explained that the victim had consensual sex with men, including the defendant.
The court heard Mr Hunnisett had contacted several men through the internet and added them to his hit list.
However, there was also no evidence any of these men had ever wanted or had had relationships with children.
Mr Hunnisett had previously been convicted of murdering a vicar, Reverend Ronald Glazebrook, in 2002.
However, he appealed against the conviction and was found not guilty in 2010 after a retrial.
'Quite distraught'
Speaking as a witness at the trial, Miss Anderson said she had met Mr Hunnisett through Facebook after he was released from prison in 2010.
The couple were engaged by Christmas Eve that year, but argued over their sex life and only once attempted sex as Mr Hunnisett had trouble becoming aroused.
She said he told her he liked visiting "Thai ladyboy" prostitutes in London and he had been sexually abused when he was younger.
The jury heard the couple did not speak for a couple of days during the New Year following a disagreement, but on the evening of Mr Bick's death Mr Hunnisett contacted her sounding "quite distraught" and said he had killed someone.
Miss Anderson said she and his sister Vicky eventually took him to the police station where he confessed to killing Mr Bick.
The trial continues.