Plans for 20mph roads across Brighton and Hove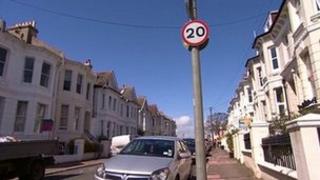 Brighton and Hove could become a 20mph city, with every residential road apart from the main routes operating within the restricted speed limit.
The Green administration said the restrictions would help to create safer environments for walkers and cyclists and protect vulnerable road users.
It would also reduce air pollution and encourage more people to use sustainable transport, they claim.
The council will meet to consider the proposal on 4 May.
Plans to introduce a 20mph speed limit were considered under the council's Conservative administration in 2010, but were deemed too expensive.
In January, speed limits were lowered to 20mph from 30mph around some Brighton schools after concerns were raised by local people about road safety.
'Over the top'
The current administration is planning to spend about £1.5m on the scheme which will take about four years to fully implement.
A scrutiny panel looking at the issue said traffic calming measures should also be introduced, alongside the new speed limit, in residential roads and places where there are lots of pedestrians and cyclists.
Sussex Police said it did not oppose the concept of 20mph speed limits, but warned the scheme would have to be self-enforcing.
Opposition councillors have claimed a complete ban across the city would be too much, adding the restrictions would be unenforceable.
Conservative councillor Geoffrey Theobald said: "We have consistently argued that the Greens' blanket city-wide approach is over the top."
Labour group leader Gill Mitchell said while also supporting the 20mph zones, there remained "serious questions as to how the Greens propose to implement the plan".