Christopher Hunnisett 'targeted sex offenders'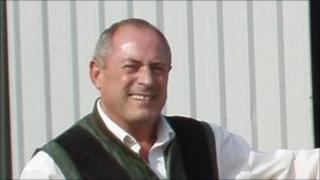 A man accused of murdering a supermarket worker he met for sex has told a court how he embarked on a campaign against uncaught paedophiles.
Christopher Hunnisett, 28, said he tried to track down sex offenders after overhearing convicted prisoners planning new offences while in prison.
Mr Hunnisett, of Hastings, is accused of killing Peter Bick at his home in Bexhill on 11 January 2011.
He admits manslaughter by diminished responsibility but denies murder.
Mr Bick was killed after Mr Hunnisett inflicted five severe blows to his head with a hammer and strangled him with a shoelace, the court has been told previously.
The trial at Lewes Crown Court has heard there is no evidence that Mr Bick was a paedophile.
'Therapy sessions'
The jury was told Mr Hunnisett started the operation after being acquitted and freed in September 2010 following a retrial for the murder of the Rev Ronald Glazebrook, whom he accused of abusing him.
He had already served nine years of a life sentence.
While on remand ahead of the second trial, the court heard he took part in "therapy sessions" designed as a form of restorative justice to try to treat sex offenders.
But he said overheard offenders planning a paedophile ring.
Giving evidence, Mr Hunnisett told the court that he decided he wanted to track down "rapists, paedophiles, those who force women into prostitution, sex traffickers".
"There are so many paedophiles in this country, over 600,000 who just offend against children," he said.
"Even if I stopped more than 100 a day, I would take over 20 years to deal with them. It is impossible for one person to stop them all."
He said that he used the internet and a network of "live sources", some made in prison, to investigate rumours of child abuse.
Mr Hunnisett also admitted reading books about intelligence agencies to help him plan his activities.
He said he tracked down Mr Bick after a contact gave him the name of a "Peter" living in Bexhill, showed him a digital picture and told him a "rumour" of what he was alleged to have done.
Mr Hunnisett said he investigated and met several men called Peter before he found Mr Bick.
The trial continues.