Brighton search widens for missing Nellie Herriot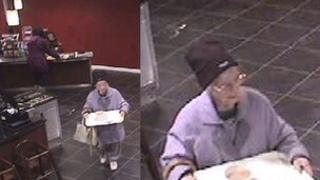 Police in Brighton said the hunt for a 96-year-old woman would continue after officers failed to find her during an extensive search of the Whitehawk area.
Nellie Herriot, who has Alzheimers and lives alone, was last seen getting off a 1a bus in Whitehawk on 24 April.
Specialist police teams and two Neighbourhood Watch search teams combed the Whitehawk area on Tuesday.
Det Sgt Duncan Elliott said: "It now looks like Nellie is somewhere else in the city or surrounding areas.
Bus pass in flat
"There have been over 40 sightings of Nellie and we will continue to look into all of these in the hope that one of them will lead us to her."
Police said it was not known whether Ms Herriot had any money with her, but her bus pass was found in her flat.
Ms Herriot was described as being 4ft 9in tall, of fragile build, with straight white collar-length hair.
When she was last seen she was wearing a blue coat, a black hat, pale coloured trousers and white shoes. Her glasses were missing a lens and she was carrying a beige bag.
CCTV images showing her wearing the same clothing three days earlier have been released by Sussex Police.
"Due to the length of time that has now passed, we are extremely concerned for her welfare and hope that today's search will find her safe and well," said Mr Elliott.