Brighton's 20mph city-wide road plan gets support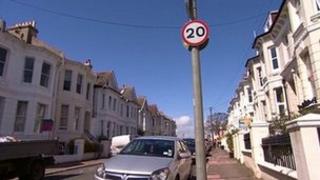 Plans to introduce a 20mph speed limit on every residential road apart from the main routes in Brighton and Hove are one step closer.
Councillors have agreed to hold a consultation into the restrictions, which the Green administration has said would create a safer environment.
The party also claims the plans will reduce air pollution and encourage more people to use sustainable transport.
A six-week consultation will start in June, a city council spokeswoman said.
She added: "They [the councillors] agreed a programme. It will start with the city centre and then fan out from there. There will be a consultation. It is expected to begin in the 2nd week of June for six weeks.
"That will be analysed for six months. It will then go back to council."
'Reduce crashes'
The administration plans to spend about £1.5m on the scheme which would take about four years to fully implement.
It believes the 20mph limit would reduce the number and severity of road crashes, improve air quality and encourage more cycling and walking.
Opposition councillors have claimed a complete ban across the city would be too much, adding the restrictions would be unenforceable.
Previously, Sussex Police said it did not oppose the concept of 20mph speed limits, but warned the scheme would have to be self-enforcing.
Plans to introduce a 20mph speed limit were considered under the council's Conservative administration in 2010, but were deemed too expensive.