Ursula Eastwood cuts hair for wig charity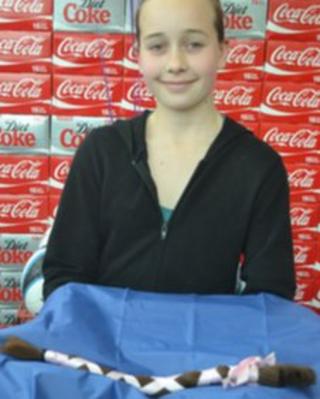 An 11-year-old girl from Brighton has had about 14in (35cm) of hair cut off so she can donate it to a charity which makes wigs for children with cancer.
Ursula Eastwood has been growing her hair for more than four years especially so she could give it to the Little Princess Trust.
The first cut in the "Big Snip" was made by Dr Who actor Paul Bazely.
"I am sad to lose the hair but I am glad it is going to someone less fortunate than me," said Ursula.
"I am a bit of a tomboy so it got in the way when I was playing."
The charity, which was set up in 2007, uses real hair to make wigs for children who have lost their own because of chemotherapy.
"When Ursula was seven, somebody mentioned that it was possible to donate your hair and being quite a determined person she decided she would start growing it," said her mother Marisol Smith.
"At that time it was just below her shoulders. It has taken about four years to get it long enough to donate - and that was the objective."
The haircut was carried out at Asda in Hollingbury, where Ursula also raised £176 with a collection and by selling cakes to add to the £677 she raised through sponsorship.
Her school, Balfour Primary in Brighton, is also holding a bad hair day in the next few weeks to raise money for the charity.