'One objection' to Hastings Pier compulsory purchase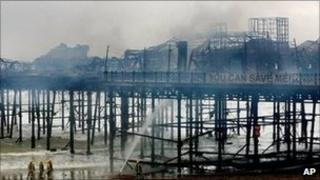 Only one letter of objection to the compulsory purchase of Hastings Pier has been received, the borough council has said.
The owner of the pier, Ravenclaw, was issued with the order after it missed a deadline to start repairs.
The Panamanian company has failed to carry out repair work since the pier was damaged by fire in October 2010.
Hastings Borough Council said it was confident the letter would not hinder the compulsory purchase process.
'Inevitable conclusion'
Councillor Peter Chowney said: "While I'm not able, legally, to disclose details of who has objected I can say it's not someone from Hastings and more significantly it's not the current owner of the pier."
The government will make a decision on whether a public inquiry is needed before the next stage of the purchase order gets underway.
Mr Chowney added: "Even if we do have to have a public inquiry, I am confident that this will only delay the inevitable conclusion.
"We are still very much working towards handing the pier over to the Hastings Pier Charity."
The charity's administrators, Hastings Pier and White Rock Trust, said it was hopeful it would own the pier by the end of the year.
The aim is to restore the 140-year-old pier, which was almost completely destroyed in an arson attack in October 2010.