West Sussex special needs service 'Theraplay' could close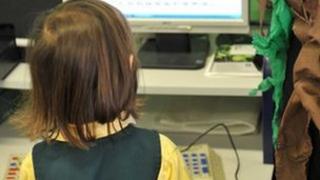 Parents of children with special needs in Sussex have raised concerns that a support service could be closed down.
West Sussex County Council is reviewing its contribution to Theraplay, a service which provides physiotherapy and speech and language therapy for children in the Chichester area.
Jason Bennett, whose son Max has autism, said the service was "priceless".
The county council said no decision had been made about its future.
Theraplay is largely funded by Sussex Community NHS Trust, which is not reviewing its contribution.
However, the county council provides some administrative and organisational support to the service and it is now reviewing this.
'Quite heartbreaking'
Mr Bennett said of his son: "It's a long struggle for him to actually learn words, but Theraplay has been priceless.
"The reason West Sussex County Council have given us is that it's not because of funding or a cost exercise, it's purely because the Theraplay centre is not available to others in West Sussex.
"It's quite heartbreaking because you see children on a wide spectrum of disabilities and it's great for them and the parents."
A spokeswoman for the council said it would be meeting parents to discuss the future of children's services later this month.
She said: "We are currently reviewing the way we provide services and support for young disabled children and their families across the county.
"No decision has been made yet regarding Theraplay, which provides sessions for children and parents, whilst attending therapy appointments."
Pauline Lambert, head of children's services at Sussex Community NHS Trust, said parents should be "reassured" that services provided by the trust at the centre in Chichester would continue in an "integrated way".
She said: "We will continue to work closely with our West Sussex County Council colleagues and families to offer and provide services in a variety of community settings."