Coogan faces Hove seafront speeding charge trial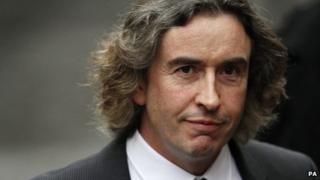 Comedian Steve Coogan is to face trial over an alleged speeding offence which could see him get a driving ban.
Mr Coogan, of Ovingdean, is accused of failing to tell police who was driving his Range Rover when it was clocked doing more than 30mph in Hove, Sussex.
The 46-year-old pleaded not guilty to speeding in October 2011 and failing to notify police, through his solicitor.
Brighton Magistrates' Court was previously told that a six point penalty would trigger a driving ban.
Mr Coogan, who created Alan Partridge and has appeared in several big-budget movies including Night at the Museum and Tropic Thunder, is expected to give evidence at the trial on 16 July.