Gatwick Airport searches 'unjustified'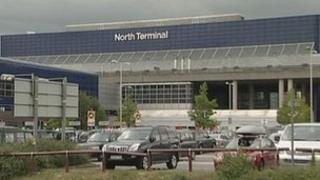 Concerns about the effectiveness of detection operations at Gatwick Airport's North Terminal have been raised in an inspection report .
The Independent Chief Inspector of Borders and Immigration found 71% of passenger searches, including strip searches, were unjustified.
And some people were arrested despite searches not revealing illicit goods.
White passengers were also routinely stopped and searched to ensure the right racial "mix", it said.
The report found customs staff selected white passengers to balance the numbers against other ethnic minorities they suspected to help avoid race discrimination complaints, particularly on flights arriving from the Caribbean.
'Discriminatory practice'
John Vine, the Independent Chief Inspector of Borders and Immigration, also found that one in seven people allowed into the UK on temporary visas either did not comply with the conditions imposed or absconded.
However, he said at the time of inspection a number of things were working well, such as "soundly based decisions to refuse entry to the UK, 100% passport swiping against the Home Office Warnings Index and good joint working with stakeholders".
But he said searches in a high percentage of the cases sampled were found to be "neither justified nor proportionate".
"I was also very concerned to learn of discriminatory practice in the conduct of detection activity," Mr Vine said.
"The extent of any discriminatory practices should be investigated and action taken to ensure officers understand and comply with the agency's duties under the Equality Act 2010.
"Finally, the agency should find out why one in seven people temporarily admitted to the UK from Gatwick North did not comply with the conditions imposed or absconded altogether."
The immigration minister, Damian Green, admitted there had been problems but said the government was working hard to ensure things improved.