Squatters take over Brighton disused supermarket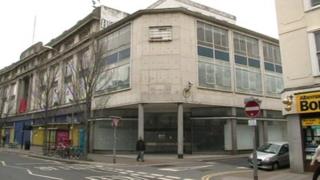 Activists have occupied a former supermarket in Brighton in a four-day protest over calls by a local MP to make squatting illegal.
The squatters from around the UK have taken over the former Co-op in London Road.
Mike Weatherley, Conservative MP for Hove and Portslade, said "Squatters tend to be anti-social anarchists."
Organisers of the protest said: "It's exactly the opposite and will be a social occasion."
Network23 posted details of the 2012 Squatters Convergence in Brighton on its website.
It said workshops and discussions would take place in the building.
The organisers wrote: "As much as Mr Weatherly, among others, would like to portray this convergence as a display of anti-social behaviour, it's exactly the opposite and will be a social occasion where all squatters are welcome."
Mr Weatherley said that homeless people and squatters were "entirely different".
He said: "If these squatters are web-savvy and well organised and able to mobilise people across Europe to a conference as such we can't call those the traditional homeless people."
The squatters are planning on remaining in the building until Sunday.