Nellie Herriot appeal renewed by police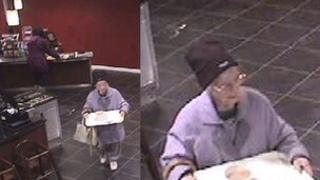 Sussex police have renewed their appeal for information about a 96-year-old woman with Alzheimer's who went missing four weeks ago.
Nellie Herriot, from central Brighton, was reported missing on 25 April.
The last recorded sighting of her was on 24 April when she was seen on CCTV on the 1a bus. She got off in the Whitehawk area.
Police said they had followed up numerous sightings of Ms Herriot and carried out extensive searches.
A police spokesperson said: "We don't want to speculate on what may have happened and it may be the case that she's no longer in the area.
"However, our enquiries continue and we would encourage anyone who thinks they may have seen her to contact police immediately and, if possible, stay with her."
Police said it was not known whether Mr Herriot had any money with her, but her bus pass had been found in her flat.
Ms Herriot is described as white, 4ft 9in tall, of thin, fragile build, with straight white collar-length hair.
She was wearing a knee-length mauve coat, a black woolly hat, cream trousers and white shoes. Her glasses are missing a lens.