'Exciting vision' for burnt-out Hastings Pier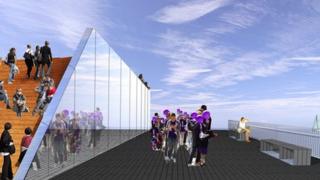 Artist's impressions of a restored Hastings Pier have been released by the trust that wants to rebuild the burnt-out structure on the East Sussex coast.
The Hastings Pier and White Rock Trust (HPWRT) said the image showed "an exciting vision" and brought the pier's restoration closer to reality.
Chief executive Simon Opie said the pier's sub-structure would be rebuilt and then a visitor centre constructed.
The 140-year-old pier was almost completely destroyed in a fire in 2010.
Hastings council has issued a compulsory purchase order to the Panamanian owners of the pier, Ravenclaw, as part of a plan to take ownership of the structure and hand it over to HPWRT by the end of the year.
Mr Opie said work would start in April next year if funding bids were successful.
Victorian sub-structure
He said: "The majority of the challenge is to restore the sub-structure which has been neglected for a long time now.
"So our first task is to rebuild the sub-structure, redeck the pier, and then to introduce on to it a new visitor centre which will be a centre for the exploration of the heritage of the pier."
He said the one building that survived the fire, the Western Pavilion, would become a restaurant and bar.
He added: "The overall approach is to protect the heritage and respect the design and the engineering of the sub-structure - the remarkable Victorian engineering - and then to put on top of the pier some elements which reflect the future of the pier and the value that it can deliver for the 21st Century."
HPWRT will make its final submission to the Heritage Lottery Fund by the end of the summer and other grant applications are in progress, but the trust also needs to raise a further £500,000.
Up to 95% of the structure, which was closed to the public in 2006, was damaged in the fire, which took four days to put out.
Two men, aged 18 and 19, were later arrested but the Crown Prosecution Service said there was not enough evidence to bring charges.