Sussex Downs College staff go out on strike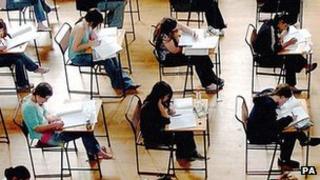 Staff belonging to two teaching unions have walked out over planned cuts at an East Sussex college.
Members of the National Union of Teachers (NUT) and the NASUWT are on a 24-hour strike at the Sussex Downs Park College in Eastbourne and Lewes.
The NUT said all its members - more than 50 teachers - took action, and classes were cancelled.
But Jonathan Morris, the college deputy principal, said: "There has only been minimal disruption in Park College."
He said that a only small number of the total staff were on strike and exams were taking place as scheduled.
Mr Morris said: "We have worked very hard to minimise the impact of funding cuts that most colleges are experiencing and we have reached the stage where there are now no compulsory redundancies for union members taking this action.
"Only three members [are] seeing a reduction in their teaching hours for next year."
The unions are fighting plans to reduce some staff hours, which they claim could force some lecturers to take redundancy because of the consequent cut in salary.
Phil Clark, secretary of Lewes, Eastbourne and Wealden NUT, said there had been an "excellent response" to the strike from its members at Park College.
"The changes proposed mean less teaching time for students while teachers work more," he said.
"The NUT has and continues to work with management to reduce the effect of cuts on staff and a lot of progress has been made.
"We were disappointed the management would not go a little further to offer protection for those facing reductions in working hours and that the strike had to be called as a result.
"The NUT is looking at further action before the summer if this is necessary."