Woman seriously injured in 55ft fall from Brighton window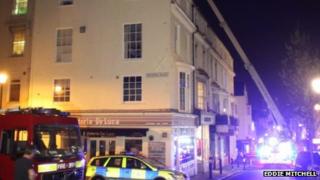 A woman is in hospital with serious injuries after a falling about 55ft (17m) from a window of a Brighton flat.
Emergency services were called to Madeira Mansions, Madeira Place at about 23:40 BST on Thursday.
She had fallen onto a sloping roof and then into a concrete basement and was rescued through a disused building.
Doctors said she was trapped in "an extremely difficult location" for nearly two hours before she could be moved.
Dr Alan Pearce, from emergency medical charity SIMCAS, said the location was hard to reach and to work in.
"We needed the help of the East Sussex Fire Service to get access via long ladders," he added.
A spokeswoman for Sussex Police said officers were investigating the cause of the woman's fall.