Sussex RNLI warning over warm weather tombstoning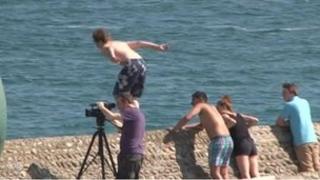 The Royal National Lifeboat Institution (RNLI) has warned of an increase in people jumping off piers and cliffs into shallow waters in Sussex over the weekend.
They fear the warm weather will seen a rise in so-called "tombstoning".
The RNLI said that taking part could lead to serious injury or death if a person misjudged the water depth.
In July 2011 a man suffered spinal injuries after jumping off Brighton Pier.
Mark Bell, from RNLI Brighton, said: "It's very difficult to judge the depth of the water beneath you.
"It's also surprisingly cold in the water, it's only around 10-11C at the moment and that can do all sorts of shocking things to your body when you jump in."