Volunteers check Sussex trees for Dutch elm disease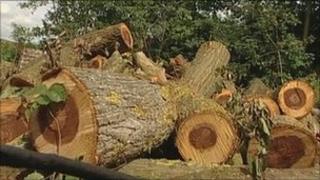 A band of volunteers are helping to keep East Sussex free of Dutch elm disease after more than 700 trees were affected in the county last year.
The Elm Protection Volunteers will look out for signs, such as brown and yellow wilting leaves at the tips of branches.
The disease, one of the most serious to affect trees in the world, is caused by a fungus spread by beetles.
Last year hundreds of trees had to be burnt, chopped down or had branches removed to halt its spread.
'Fight the disease'
The registered volunteers will work with East Sussex County Council's Dutch elm disease officer, patrolling specific villages, parishes or areas and reporting affected trees so they can be dealt with appropriately.
The council has launched a dedicated Facebook page to report cases and has asked all residents to keep a look out.
Councillor Carl Maynard said: "If you do see a diseased tree, you can still contact us via letter, email or phone, but however you do it, please get in touch.
"By doing so, you can help us fight the spread of Dutch elm disease and help look after the largest population of mature English elms in the world."