'Human' bones uncovered by A23 near Handcross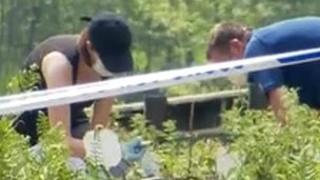 Bones - believed to be human - have been uncovered by workers at the side of a major road in West Sussex.
Contractors alerted police after finding the bones at the side of the A23 near Handcross.
The bones were discovered on the southbound road about 100 metres south of the Slaughan junction.
Police said they may have been carried there by animals. Search officers and a forensic archaeologist are at the scene.
A police spokesman said: "There are several small pieces of bone and we believe they are human, but they will be removed today and taken to a forensic laboratory for detailed examination, which may take some time.
"Although very close to the carriageway it is possible that they may have been carried there by animals.
"There is no evidence to show that they had been buried, as they appeared on the surface during the process of digging and ground clearance."
Police said that nothing else had been found during a search of the surrounding area.