Britannia statue set on fire for Diamond Jubilee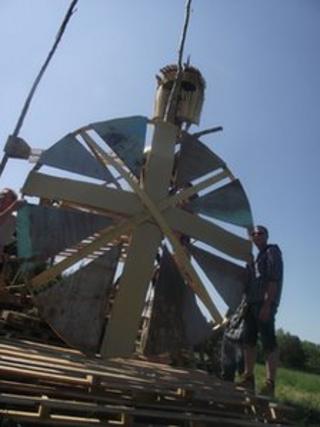 A 30ft (9.1m) wooden sculpture of Britannia has been set alight in an East Sussex village to mark the Queen's Diamond Jubilee.
Three weeks of work and three lorry loads of wood went in to making the female warrior, complete with trident, shield and helmet, in East Hoathly.
The construction, which was completed on Sunday, was set on fire on Monday at 22:15 BST.
It was part of a chain of more than 4,000 Diamond Jubilee beacons which were lit to celebrate the Queen's 60-year reign.
Local sculptor Keith Pettit, who designed and organised the construction, is used to seeing his hard work go up in flames.
"I've been doing bonfire sculptures for about 10 years for the East Hoathly Bonfire," he said.
"It's such a privilege to have the opportunity to exorcise some of these ideas out of my head. That more than makes up for the fact that it gets burnt.
"When I'm watching it burn I'm worrying about how it's burning and if it's going to burn safely. When it's done I'm on to the next idea."
Mr Pettit said almost all the wood used to build the Britannia bonfire sculpture was scrap from a local sawmill and a demolished house in the village.
Tribute not protest
The Britannia image is a personification of Great Britain and it has appeared on British coinage throughout the ages.
Most recently it featured on 50 pence coins minted between 1969 and 2008.
Mr Pettit said he chose the Britannia image because it was "as close as I could get to whole event without causing offence to anybody".
"I couldn't burn an effigy of Queen, a diamond was uninspiring and burning the Queen's Royal seal would not have been well received in some quarters.
"The sculpture is a tribute. When we burn anything at events in the village there's no insult or protest."
Wealden District Councillor for East Hoathly Barby Dashwood-Morris said: "I'm absolutely sure there is no slight intended whatsoever.
"I would call it an innovative idea and I'm pleased to hear they are celebrating the Queen's Jubilee."