Sussex fire chief threatens to charge for lockout calls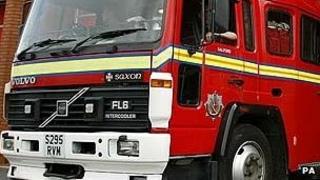 East Sussex fire service is considering charging for call-outs to people locked in or out of vehicles or property.
The man who heads the county's busiest borough has warned malicious callers: "We're not a cost-effective replacement for a locksmith."
Mark Rist said the service would continue to respond to genuine call-outs where people were in danger.
But he said: "If we feel the caller has genuinely misled us, we have the power to charge."
His warning comes two days after firefighters were called to separate incidents in Brighton and Hove where an elderly man and a three-year-old child were locked in parked vehicles - incidents that Mr Rist said were genuine emergencies.
And it follows revelations by London Fire Brigade that its personnel are called nearly every hour to rescue people who have locked themselves in or out of buildings or vehicles.
'Group of lads'
Mr Rist, borough commander for Brighton and Hove, said: "I recognise a lot of what [London Fire Brigade] are saying.
"We do get people on a night out who call us, saying they have lost their keys and could we help them?
"We have a fairly rigid filtering process - there has to be a life risk or humanitarian reason to let someone who is not in danger into a premises - for example, if it was a woman out late on her own, or a child.
"But if it was a group of lads in the pub, we certainly would not. We would point them in the direction of the locksmith."
He added: "We do have the power to charge for such a call, and if we find it isn't an emergency we could charge - and we charge more for a fire engine than a locksmith would ever charge."
The incidents on Wednesday were regarded as genuine emergencies - a man in his 80s was stuck in his car at Hollingbury Park Golf Club after his central-locking remote control failed, and the child was stranded when its car doors could not be opened.