Saltdean Lido: Campaigners' joy as pool handed back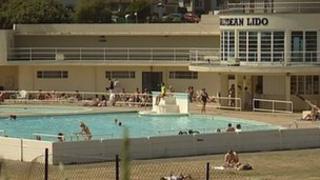 Campaigners fighting to secure the future of a Grade II*-listed swimming pool have said they are overjoyed it is to be handed back to the council.
The keys to Saltdean Lido, in East Sussex, are being returned to Brighton and Hove City Council by leaseholder Dennis Audley after legal discussions.
Mr Audley will receive an undisclosed financial settlement in return.
Rebecca Crook, of the Save Saltdean Lido Campaign, said she hoped it would now be returned to its former glory.
"We're completely overwhelmed. We can't believe it's actually happened. It was always our goal and objective," she said.
The decision follows years of uncertainty about the future of the 1930s lido and a lengthy campaign by residents concerned at the deteriorating fabric of the building and its opening times.
'Beautiful lido'
The council said in the longer term it was likely to put the facility out to tender, seeking either a new lessee or a contractor prepared to run the lido.
Ms Crook said campaigners had already set up a "community interest company" with the intention of taking ownership of the building and running it for the community.
Councillor Geoffrey Bowden, who is in charge of economic development and culture, said: "Now the building is about to be handed back to the council, we will be working with the community to find the best way to ensure this beautiful seaside lido can be maintained and kept accessible."
The council said the change was still subject to legal agreement and it hoped the pool would be reopened soon.