Demand for homelessness help in Crawley up 25%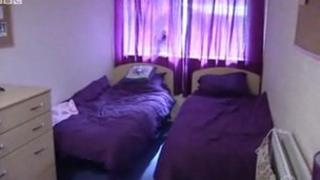 A shelter for homeless people in West Sussex has said increasing redundancies have led to a 25% increase in demand.
Open House in Crawley, which runs a hostel and day centre, said more professional people and families had been seeking help in the recession.
Its day centre had 15,600 client visits in the last financial year, compared with 12,324 in the year to March 2008.
Tory MP Henry Smith said unemployment in the town was falling and was about half the national average.
"People coming in to us are people who have had very reasonable jobs," said director Peter Mansfield-Clark.
"They have had families, led quite settled lifestyles for quite a few years and have now been affected by the recession.
"The better the lifestyle they have had, the less likely they are to be able to cope with a major crisis when it happens."
Mr Mansfield-Clark said redundancy could lead to family break-up, with high rents in the area making housing prohibitively expensive.
"If you have got to pay for children you are not left with enough to put down as a deposit on a place to rent," he said.
Open House runs a 24-bed hostel for adults but had to turn down 2,513 requests for accommodation in the year to March.
Hostel full up
"It is horrendous," said Mr Mansfield-Clark.
"As I came into the office this morning there was a pile of blankets outside the gates, which is not unusual.
"It was pouring with rain and under those blankets was a woman who turned up during the night wanting a room and we were full up.
"All we could do was give her a pile of blankets and tell her to find a doorway but she slept outside because she felt safer."
Mr Smith, MP for Crawley, said: "Crawley is doing relatively well in terms of the overall national, European and global economy.
"But it is 100% a problem if you are one of the 4% of people in Crawley who are unemployed.
"Open House is a fantastic charity but it is really the only one of its kind between London and Brighton and serves a vast area.
"Also, you have people coming to Crawley from elsewhere looking for work and when they don't find that work, Open House often has to pick up the pieces."