Nellie Herriot search scaled down by Sussex Police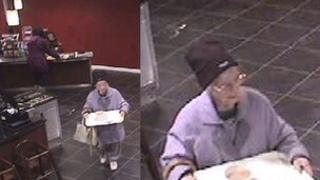 The search for a 96-year-old woman with Alzheimer's who has been missing for seven weeks has been scaled down by Sussex Police.
Nellie Herriot, from central Brighton, was reported missing on 25 April.
Police investigated over 70 reported sightings and used specialist search teams in an attempt to locate her.
Det Insp Miles Ockwell said it was "very sad" that despite an intensive investigation and help from the public Ms Herriot was still missing.
He said: "The case will not be closed down completely - I will personally review it on a monthly basis for the first three months and then six-monthly after that.
"Any new lines of inquiry that come up in the meantime will be investigated."
'Very distressing'
The last recorded sighting of Ms Herriot was on 24 April when she was captured on CCTV on the 1a bus, in Brighton. She got off in the Whitehawk area.
Police said it was not known whether Mr Herriot had any money with her, but her bus pass had been found in her flat.
She is described as white, 4ft 9in tall, of thin, fragile build, with straight white collar-length hair.
And she was wearing a knee-length mauve coat, a black woolly hat, cream trousers and white shoes. Her glasses are missing a lens.
Ms Herriot's niece, Lesley Hogg, thanked police, social services and the public for their help in trying to find her.
She said: "It has all been very distressing, terrible and unfortunate. Nellie has always been an independent lady who loved her freedom.
"It is so sad that she has not been found."