Brighton pensioner helped by 'mystery man' to clear rubbish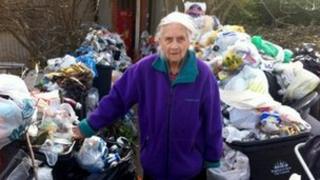 A Brighton pensioner has been helped to clear 4ft (1.4m) high piles of rubbish from her garden, after a court ordered her to remove it.
Olive Taylor, 87, who is registered blind, said she had been recycling rubbish to raise money for charity for 65 years and had raised £90,000.
Brighton County Court ordered her to clear the waste, after the city council said it had received complaints.
Now a local person, who she calls her "mystery man", is helping her clear it.
'Nice person'
The man, who has been known to Ms Taylor for a number of years, does not want his identity made public.
"My mystery man - I had spoken to him on the odd occasion when he passed over the last four or five years, but I didn't know who he was," said Ms Taylor.
"He is a very nice person, he co-operates and we get on very well, I can leave him, he's a very trustworthy man."
"I'm quite happy that he has helped me so much," she added.
Brighton and Hove City Council said previously that Miss Taylor had refused all offers of help to clear the rubbish and it was left with no alternative but to get a court order to get the garden cleared.
In 1993, eight lorry-loads of rubbish were removed from Miss Taylor's garden.