Olympic Torch Relay: Uckfield residents criticise route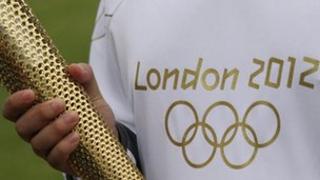 London 2012 organisers have defended the Torch Relay route after criticism of how decisions were made.
Children from seven schools in Uckfield, East Sussex, will stage an alternative torch run, because the Olympic Flame will not visit the town.
Resident Steve Saunter said there was no consultation on the route. The town's festival organisers also said they were disappointed.
Olympic organisers Locog said difficult decision had to be made.
Mr Saunter said the Uckfield Festival was being held during the week the Olympic Flame visited Sussex, but the torch would be driven along the bypass in a car at 60mph and no-one would know anything about it.
He said: "There are a thousand or so villages that they're stopping in, but I don't ever remember being consulted about whether the town wanted the procession to come here or not.
"Was there a process? I don't ever remember there being one."
'Cheer the children'
A spokeswoman for the Uckfield Festival also said: "We are very disappointed about the Torch Relay, especially because it is during our festival. That is the feeling of the whole committee."
But she said the town was becoming increasingly excited about the schools' torch run on 17 July.
The festival programme has urged residents to turn out in force and "cheer on the children".
In a statement, Locog said: "We are not able to visit every community in the UK on the 70-day tour and difficult decisions had to be made, together with the local authorities and the South East Torch Relay Advisory Group, as to where the Olympic Flame is carried by torchbearers."
Locog said the flame would visit Crowborough and Lewes and added: "We hope that the people of Uckfield choose to visit one of these locations to see the flame."
A Wealden council spokesman said: "We would have liked the torch to be able to call at more places but we appreciate the tremendous logistical problems that Locog must have."