Body found in Brighton during search for swimmer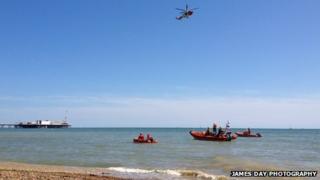 Rescuers searching for a swimmer who was seen to get into difficulties off Brighton beach have found a body.
The in-shore lifeboat and coastguard units, plus a helicopter and police officers on the beach, had been looking for the man since 14:20 BST.
Members of a watersports club also reportedly joined the search, which was centred between the two piers.
The 24-year-old missing man is understood to be from London and visiting Brighton with friends.
Sussex Police said the body of a man was washed up on the beach just before 17:30 BST.
The identity has not yet been confirmed.