Eastbourne MP Stephen Lloyd debates hospital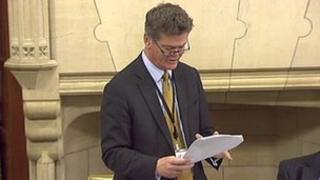 Proposals to end some services at Eastbourne District General Hospital have led the local MP to say he will not "stand idly by" while they are cut.
Stephen Lloyd said the NHS in East Sussex was considering ending high risk and emergency surgery, stroke treatment and orthopaedic services.
It would mean patients would have to go to the Conquest Hospital in Hastings.
Eastbourne's Liberal Democrat MP said his town needed a fully functioning hospital.
In an adjournment debate at Westminster Hall secured by the MP on the proposed reconfiguration of the East Sussex Hospitals NHS Trust, Mr Lloyd called on the government to intervene to ensure the trust followed national guidelines.
'Best care possible'
"The government has said all service changes in future must be led by clinicians and patients," he told MPs.
"The clinicians have profound concerns, and I can assure the minister that the patients, former and future, from Eastbourne, Hillingdon, Lewes, and beyond, also have profound concerns about the proposed clinical strategy currently presented by East Sussex Hospitals NHS Trust managers."
Mr Lloyd urged the health minister Simon Burns "to do what is necessary" to address the concerns, "and to ensure that our hospital continues to perform as a fully functioning district general hospital for many years to come".
In response, Mr Burns said it was the local NHS driving the changes, and the best way to express concerns was through the official consultation.
The NHS in East Sussex said it wanted patients to "get the best care possible".
"For the vast majority of services, improvements can be made without significantly changing the way we provide the service.
"However, we believe some services do require significant change to make the necessary quality and safety improvements," it said in a statement.
"The NHS Sussex Board, working with the boards of East Sussex Healthcare NHS Trust and the local clinical commissioning groups, has agreed to consultation on three specific areas where we believe improvements can be made - stroke care, orthopaedic care and general surgery."
It stressed that A&E services would be maintained at both Eastbourne District General Hospital and the Conquest Hospital, and that formal consultation was likely to start by the end of June.