Smash EDO objects to new Brighton police demo tactic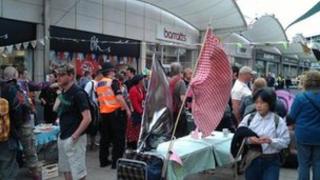 A Brighton anti-war group has said it will try to disrupt a new Sussex Police tactic of deploying officers to mingle with demonstrators and marchers.
The force used the protest liaison officers on two demonstrations during the Queen's Diamond Jubilee weekend.
It said it wanted better communication, understanding and facilitation of protests and public events.
But Smash Edo, which held a demonstration on 4 June, said the tactic was "not acceptable".
Sussex Police Authority said protests in Brighton and Hove were becoming a regular part of policing and required significant planning.
Policing review
Previously, liaison officers have been used to discuss protesters' plans ahead of demonstrations and other events.
But during the Diamond Jubilee weekend they were used for the first time to mix with protesters and the public at demonstrations.
It follows a review of public order policing in Brighton and Hove carried out by Liverpool University lecturer Dr Clifford Stott, an expert on crowd psychology.
Ch Supt Paul Morrison, of Sussex Police, said the aim was to police large crowds safely while allowing the public to go about their daily lives.
"Their (police liaison officers) role is to speak to people taking part, to gain their trust and to establish what they want to do and to influence them and police tactics accordingly," he said.
"We recognise that given this was their first deployment there is still a lot to learn and we will continue to develop our training and approach in the coming months."
'Obstruct police'
Smash Edo has held a series of demonstrations in the city during its eight-year campaign against Brighton arms factory EDO MBM Technology.
Spokesman Chris Osmond said protesters at the demonstration on 4 June tried to "remove" the liaison officers.
"The police liaison officers were attempting to pacify the demonstration and they decided that wasn't acceptable," he said.
"Teams of people stood in front of the police liaison officers as they tried to enter the demonstration.
"They used banners to obstruct the police liaison officers, they used umbrellas and they tried very hard to keep the demonstration free of police which is what we intend to do in the future."