Eastbourne school invites stuntman to give acting masterclass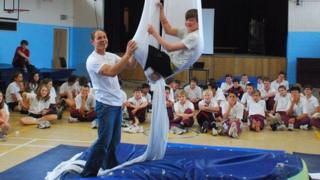 Pupils at a school in Sussex received a masterclass in stunt acting by a Hollywood performer.
Nicholas Daines, who has appeared in four Harry Potter films, Batman Begins and Robin Hood, visited St Andrew's Prep School, in Eastbourne.
He taught the children how to fall safely, use trampettes for leaping and stage combat.
The stuntman, from Camberley, in Surrey, said he wanted to show it was a "valid career path".
"The response from the kids has been fantastic - everyone has been so enthusiastic," he said.
'Realise their dreams'
Mr Daines, who is a former British gymnast and competes in international diving competitions, said he hopes to inspire the pupils to follow his example.
"I would've given my hind teeth for someone to come into school and show stunt work is a valid career path," he said.
Jamie Trott, who is head of drama at the school, said the visit had given the pupils an example of how to be athletic outside of traditional competitive sport.
"It's a nice opportunity for children to realise their dreams and understand what it takes to become a stuntman," he said.
"If they are interested in acting, stunt work adds another string to their bow."