Sculpture for Hickstead showground founder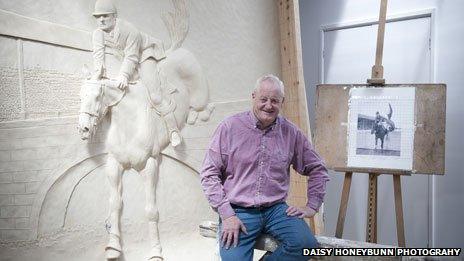 A sculpture commemorating the founder of a West Sussex show jumping ground has been unveiled.
Douglas Bunn who founded the All England Jumping Course at Hickstead died in 2009.
The sculpture was created by Philip Blacker and features Mr Bunn on his horse Beethoven during the Hickstead Derby meeting.
He said: "I was delighted to be asked to create the memorial because I knew Douglas when he was alive."
Mr Bunn wanted to create a world-class sporting venue to rival the best showgrounds in Europe.
He bought Hickstead Place, a 13th Century manor house, in 1959 together with 100 acres (40 hectares) of surrounding land.
The first horse show was held there in May 1960.
The following winter he flew to Hamburg to see the German Derby course and he set about measuring the dimensions of the obstacles, including the Derby bank which he planned to replicate at Hickstead.
'His proudest achievement'
Hickstead's bank ended up about 6in (15cm) taller than its Hamburg counterpart.
The Hickstead Derby is running between 21 and 24 June, and the showground also hosts the Royal International Horse Show.
Mr Bunn's daughter Lizzie, a Hickstead director, said: "The All England Jumping Course was my father's proudest achievement.
"It's fitting that this memorial statue should be sited right next to the International Arena so that all the visitors to the showground will see it as they arrive."
In 2011 the International Arena was redeveloped at a cost of £500,000 and the All England Jumping Championships was added to the venue's calendar.
Related Internet Links
The BBC is not responsible for the content of external sites.