Kittiwakes in East Sussex enjoying success, says RSPB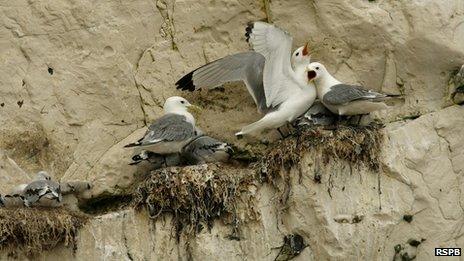 The first chicks in one of south-east England's last remaining kittiwake colonies have begun to hatch on cliffs in East Sussex.
About 1,100 pairs of the gulls have been breeding at Splash Point near Seaford, the RSPB said.
The charity said the gulls had struggled to breed along coasts of northern England, Scotland and Wales.
A reduction in the number of sandeels, probably due to climate change, is being blamed, the charity said.
Kate Whitton, from the RSPB, said: "Sussex's kittiwake colony seems to be doing well, which is welcome news, especially as their numbers have been declining nationally over the past few years.
"Another local colony at Newhaven, which has been steadily decreasing over the last few years, has no nesting kittiwakes at all this year.
"Hopefully, by the end of next month we should see the Seaford chicks fledge and start swooping over the cliffs and the sea just like their parents."
The kittiwake has been amber-listed, meaning it is a species of conservation concern.
Kittiwakes are a small ocean-going gulls, with a pure white underside and black tipped pale grey wings and black feet.
The young take a long time to mature with eggs being laid on narrow cliff ledges in the middle of a colony of hundreds of birds.
Many kittiwakes will not return to breed until they are three, four or even five years old.
Related Internet Links
The BBC is not responsible for the content of external sites.