Bognor Regis Butlins evacuated after nightclub arson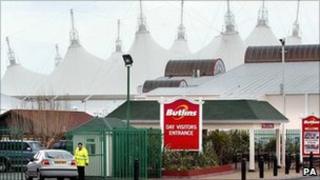 Part of the Butlins holiday camp in West Sussex had to be evacuated after an arson attack in the resort's nightclub.
West Sussex Fire and Rescue Service (WSFRS) were called to the holiday park in Bognor Regis at about 01.45 BST on Monday.
Firefighters, including two wearing breathing apparatus, tackled a small blaze in the club's female toilets.
A spokeswoman for the WSFRS said the fire was started deliberately.
In a statement, Butlins Bognor Regis said: "There was a small fire in a cubicle in the women's toilet which a member of staff attempted to extinguish.
"The alarm was sounded immediately on discovery of the fire and the building evacuated as per procedure."