St Leonards plaque marks Alan Turing's early years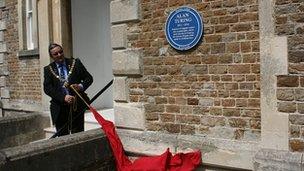 A blue plaque has been unveiled at the childhood home in East Sussex of Alan Turing, famed for breaking the codes of the Germans during World War II.
The unveiling of the plaque, in Upper Maze Hill, St Leonards, on Saturday marked the centenary of his birth.
The computer pioneer died in 1954 of cyanide poisoning. It is thought he committed suicide following persecution as a result of his homosexuality.
The plaque was unveiled by the Mayor of Hastings, Councillor Alan Roberts.
Deputy leader of Hastings Borough Council, Peter Chowney, described Turing as "one of the most remarkable people ever to have lived".
"I think it is only right that we mark the town's connection with this amazing man, who changed the world twice.
"His work on the Enigma code at Bletchley Park during the Second World War allowed us to pinpoint German U-boats and protect the north Atlantic convoys, without which the outcome of the war could have been very different," Mr Chowney said.
"His subsequent work, showing that complex mathematical calculations could be reduced to binary code and represented by a simple on/off switch, led to the development of the modern digital computer, and was similarly world-changing.
"It was a tragedy that his life was cut short."
Related Internet Links
The BBC is not responsible for the content of external sites.