Male cancer survivor, 23, launches awareness campaign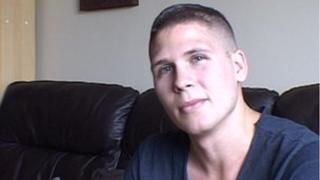 A 23-year-old testicular cancer survivor from Sussex is launching a campaign to raise awareness of male cancers.
Ryan Walshe from Seven Dials in Brighton was diagnosed with testicular cancer in 2010 after a TV programme prompted him to check himself.
"My tumour was actually three weeks away from taking my life," he said.
Mr Walshe's campaign, called Beat Male Cancer, aims to create a support network for male cancer patients.
'Embarrassment and ignorance'
He said: "I think it's embarrassment and ignorance that stops men from doing it because it's not a manly thing to check your testicles for lumps."
In 2010, Mr Walshe had his right testicle removed and had chemotherapy treatment for the cancer.
He is inviting survivors, patients and their family members to attend one of three public events he is hosting in Brighton in June and July.
Mr Walshe has already given talks on testicular cancer to about 3,000 teenagers in local schools.
Mr Walshe said before his diagnosis he was "never given any information... I did not know about the signs or symptoms of testicular cancer or cancers in general," he said.