Consultants criticise East Sussex hospital changes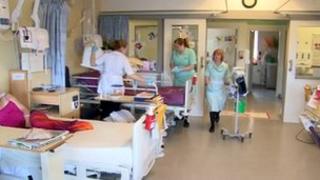 A group of consultants has criticised plans to shake up hospitals in East Sussex by centralising some services in either Eastbourne or Hastings.
Stroke services and some surgery would be concentrated at Eastbourne hospital or the Conquest hospital in Hastings.
Sixty-three consultants from Eastbourne District General have expressed their concerns.
East Sussex Healthcare NHS Trust said the consultants accepted the need to improve the quality of services.
The proposals, unveiled on Monday, are the subject of a 14-week public consultation which runs until 28 September.
It focuses on stroke services, emergency and higher risk general surgery and emergency and higher risk orthopaedic surgery.
'Concerns not addressed'
All three could be located at either the Conquest or Eastbourne or stroke services could be at one site with surgery at the other.
Maternity and Accident and Emergency services will be unaffected.
The consultants met in May to discuss the proposals and wrote to the NHS Trust saying they had "little or no confidence" in significant elements of the strategy.
They said they were concerned the proposals would not advance the desire for improved access and quality of care for patients and were frustrated their concerns had not been adequately addressed.
The letter was leaked to Eastbourne's Liberal Democrat MP Stephen Lloyd, who said the town was determined to fight for its hospital.
"If the town is to continue to grow and have a prosperous future we need to retain its full services," he said.
"We will not give in - we will fight every inch of the way. I've got the town with me and I have the clinicians with me as well."
The NHS trust's medical director, Dr Andy Slater, said it needed to provide a quality service.
"That means that specialist staff who are currently spread thinly between our two sites need to be concentrated on to one site so that we can provide that quality service seven days a week," he said.
He said leading consultants had developed the proposals in conjunction with leading GPs and patient representatives.
"The need to improve the quality of the services we provide is accepted by the consultants in the hospital and any development that improves quality is supported by the whole consultant body," he said.