Brighton's Grand Hotel gets multi-million pound overhaul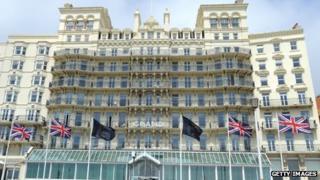 A multi-million pound project to overhaul Brighton's Victorian Grand hotel is under way.
The work includes the refurbishment of 201 bedrooms and 11 conference rooms, and a new restaurant and spa.
Andrew Mosley, general manager said: "It's coming on for £5m - this isn't cheap so we want to do it right, it's going to be well worth the investment."
The hotel remains open and the work being carried out is due to be finished by early next year.
The Grand Hotel was bombed by the IRA during the Conservative Party Conference in October 1984, in an attempt to assassinate Margaret Thatcher.