Gun lessons for children at Plumpton College criticised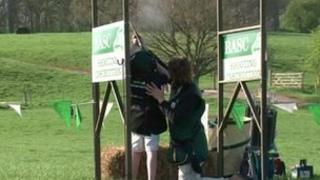 Shooting lessons for children aged eight years and upwards at a college in Sussex have been criticised.
The lessons at Plumpton College, near Lewes, will teach children how to use shotguns and air rifles.
Members of the Green Party have criticised the lessons as a shift towards American attitudes to guns.
However, the British Association of Shooting and Conservation (BASC), said the course teaches children how to handle guns in a responsible way.
The college was formerly known as Plumpton Agricultural College and specialises in "land-based courses", including farming, veterinary nursing and rural business management.
Dan Reynolds, from the BASC, which runs the course, said: "The Home Office guidance says that anyone who is going to be introduced to firearms should be done so at an early age.
"And we do these courses to ensure that people introduced at that age in safe and responsible manner.
However, Susan Murray, from Lewes Green Party, said: "Once it becomes a normal thing for kids to use guns, you're moving away from the kind of attitude we've got to guns in this country, and moving more towards the American model that it's OK to use guns."