Supermarket stab man risks missed by Sussex NHS trust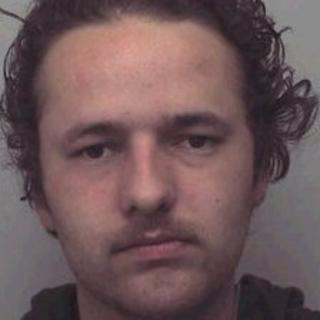 The risks posed by a paranoid schizophrenic man who stabbed a woman at a West Sussex supermarket were missed three times, a report says.
Samuel Reid-Wentworth, 22, was detained in hospital indefinitely for repeatedly wounding Lucy Yates in Littlehampton. in September 2008.
He suffered from mental problems and had warned he wanted to kill a woman.
Investigator Verita had considered the care he received from Sussex Partnership NHS Foundation.
Reid-Wentworth was locked up under the Mental Health Act by a judge at Lewes Crown Court in February 2009, when he was 22, for attempted murder. He is detained indefinitely at Broadmoor.
He inflicted 21 stab wounds on Miss Yates, after spotting her on a bus and following her to the Somerfield store in Littlehampton.
Miss Yates, then 22, survived the attack.
Verita conducts investigations and reviews of public sector organisations to help them improve the quality of their services.
'Symptoms not explored'
The investigators said three opportunities were missed during the treatment of Reid-Wentworth, known in the report as Mr Z.
The first was when he was admitted to psychiatric care in August 2007, after assaulting two female strangers on the same day.
The report said: "The motivation underlying the assaults and the significance of his associated symptoms were never fully explored."
The second opportunity was when he was transferred to a rehabilitation and recovery unit after five months on the acute admission ward.
"Assessment of risk was incomplete and the potential seriousness of the two assaults on the women prior to admission was still not fully appreciated," said the report.
The third major opportunity was when he was re-admitted to an acute mental health ward after psychotic symptoms including thoughts of killing people reappeared.
The report also said that there was little evidence of staff speaking to Reid-Wentworth's mother, who had an important part in his future care plan.
"In spite of Mr Z's extensive periods of leave to his mother and older brother's addresses neither was approached for their views as to the success or otherwise of these arrangements."
Intended to attack
In 2007, Reid-Wentworthwas cautioned for attacking a hotel housekeeper with a metal torch in Bognor Regis, and spraying breath-freshener into another woman's eyes and face in Littlehampton.
Before he attacked 20-year-old Miss Yates, he wrote to a clinical psychologist saying he intended to kill or attack a woman in a supermarket in Bognor using a samurai sword. The letter was opened two days after the attack.
After he was arrested, tests on his blood and urine showed he had not been taking his anti-psychotic medication.
At his trial, the court heard he released his anger by stabbing his bathroom door approximately 50 times and also the mattress of his bed.