WI gardeners grow vegetables on St Leonards building site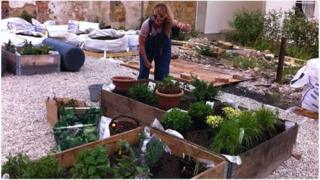 A group of volunteers from an "alternative" branch of the Women's Institute (WI) have taken over a derelict building site to plant a community garden.
The Moveable Feast Garden, in St Leonards, East Sussex, has been created by the town's "Wonky WI".
Vegetables have been planted on top of wooden pallets so that they can be moved to new sites in the future.
Volunteer Nicole Collomb said the garden was about "creating happiness".
The developers who own the land have given the group permission to use it for one year, after which they plan to move their garden to a new derelict site.
Nicole Collomb, who is one volunteers, said the idea came about after a new branch of the WI, which calls itself the Wonky WI, was formed in the town.
'Different backgrounds'
And following a WI grant of £1,700, and donations from local businesses the community garden has now been opened.
"There's plenty of places where this could happen - you could have a moveable garden in every town or city in the country," said Ms Collomb.
"It has been worth it, because so many people are enthusiastic and it's brought people together from all different backgrounds."
She said there were many areas of land which developers could not afford to build on due to the economy.
And she said the group hopes to have the garden open for most of the week for people to visit.
"It is as much about creating happiness as it is about growing vegetables," she said.