Teenager admits Eastbourne charity box theft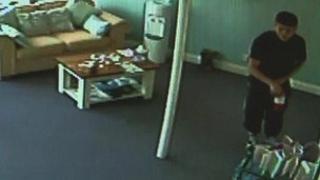 A 19-year-old man has pleaded guilty to stealing a charity collection box from a funeral director's in Eastbourne.
Unemployed Curtis Willard was sentenced to 150 hours' community service and given a one-year supervision order by magistrates in the East Sussex town.
The teenager, of no fixed address, took a box containing about £40 for Help for Heroes from Payne & Sons on 29 June.
Willard struck after telling co-owner Donna Payne he had to arrange a funeral for his grandmother.
CCTV footage showed him taking the box when Mrs Payne went into a back room.
While she collected an information pack, the teenager picked up the box and left.
Mrs Payne's soldier son, Christopher, was assisted by the Help for Heroes charity after he lost a hand and a leg in Afghanistan.
She said an apology from the thief would not be enough.
Sussex Police said Willard was arrested on Tuesday following media appeals on Monday.