Beachy Head Bomber Command memorial is unveiled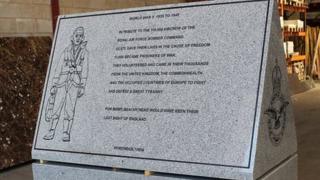 A memorial to World War II Bomber Command airmen has been unveiled at Beachy Head in East Sussex.
The six-tonne tribute was organised by 90-year-old Joseph Williams who served in Bomber Command and set up The Bomber Command Tribute Beachy Head Committee.
The committee said for most of the airmen Beachy Head was their last sight of Great Britain.
Almost half the 125,000 Bomber Command airmen died on missions to bomb Nazi Germany.
Lord Lieutenant Of East Sussex, Peter Field, dedicated the memorial to the 55,573 airmen who lost their lives.
An RAF Chinook helicopter delivered the memorial to its location in June.
Mr Williams, who joined the RAF in 1944 aged 21, started the campaign for the memorial in 2008.