Brighton's Rounder Records set to close after 46 years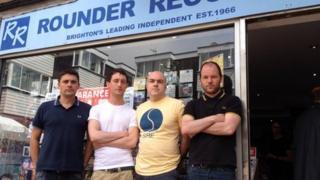 Brighton is renowned for its lively music scene, record labels and venues, so it comes as a bitter blow that an independent record store is preparing to close after 46 years.
Despite trading from the same premises in Brighton Square for nearly five decades, Rounder Records says it had been losing money for the last four years and can no longer continue its battle against illegal downloaders, big online retailers and the recession.
It will close its doors on 29 July "because we can't make it add up any more", said its owner of the past 12 years, Phil Barton.
The shop is well known in the city for its part in the local music community, from supporting local bands and stocking their first releases, to selling tickets for all their gigs.
Brighton DJ Norman Cook worked there in the 1990s before he rose to fame as Fatboy Slim.
'Musical city'
Rounder Records, which opened in 1966, is also Brighton's number one vinyl store, selling more brand new vinyl than anybody else, Mr Barton said.
"Customers demand it, that's what they come here for... there are a lot of people out there who love this place."
He added: "A lot of people have spent a lot of money with us over a long period of time, they've grown up with us."
One of them, Shane Griffiths, 21, said: "There aren't enough shops like these. They have really unique music that you can't get in mainstream shops.
"I've got a vinyl player and when I'm after music that is a bit more obscure, places like this have it.
"When you leaf through records you find music you weren't intending to buy."
Henry Gray, 20, added: "I've got a proper attachment to shops like these... I've got a passion for music and I like seeking it out in its physical form. But then I'm quite nostalgic."
Rounder Records also prides itself on being a place "to obtain, hear, find out about and discuss all types of the weird and wonderful world of music" and of being "a social hub for a musical city".
And it has an album club, where for just £10 a month members can have "the finest release of the month" chosen by the shop posted to their door.
"What we have always strived to do is to stock the best range of music at the best prices for our customers - sadly that is not enough for us to stay open," Mr Barton said.
Praising his staff for their knowledge and undivided loyalty, he said the human cost of the closure was also a concern,
He explained that the decision had not been taken lightly, but with the "deepest regret".
"Rounder Records hasn't made any money for four or five years. I've been putting my own money in but I can't carry on propping the store up and losing money.
"I've been making decisions with my heart. Now I have had to make this decision with my head," he said.
"29 July will be a very bad day."
Within hours of the announcement, news of the closure started to trend nationally on Twitter showing, Mr Barton said, "the depth of feeling for the shop".
"Everyone is gutted, it's another outlet for all these people that's been lost."
'New talent'
Kim Bayley, director general of the Entertainment Retailers Association, said the loss of Rounder Records was very sad.
"Whilst over the past 10 years the number of independent record shops in the UK has declined dramatically... the number of shops has remained static in the past few years, which reflects the strength of those shops remaining."
She said vinyl was the fastest growing format last year, and independent music shops continued "to play a vital role in nurturing new talent within the music industry."
Mr Barton said staff at the shop, of which there are three full-time and two part-time, had a huge amount of knowledge about music, plus contacts with a lot of bands, promoters and venues.
"Part of the network is going to die on the 29th. It's not a good thing for Brighton," he said.
"Rounder has been a part of my life, and my loyal staff's lives for so long that having to close is a very bitter pill to swallow.
"We tried everything to stay open, but the basic economics were killing us."
He added that the city would still be served by other record shops but "we can't fight anymore".