London 2012: Hastings twin town hosts Sierra Leone team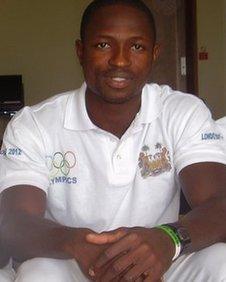 Athletes from Sierra Leone are making their final preparations for London 2012 in East Sussex, thanks to links forged following the West African nation's civil war.
The seaside town of Hastings is providing accommodation and training facilities for sprinter Ibrahim Turay and long jumper Ola Sesay.
Hastings is hosting Tuesday's overnight stay for the Olympic Torch and Sierra Leone's two-strong team will appear on stage at the town's evening celebrations.
As well as hoping for success in the 200 metres, Turay, 19, is looking forward to seeing his hero, Jamaican sprinter Usain Bolt, in action.
"When I started in athletics I was a hurdler and the person I admired was my friend, Umar Allie, who was a hurdler and runner," he said.
"But now my hero is Usain Bolt."
Turay is Sierra Leone's champion in the 110 metre and 400 metre hurdles, discus and 200 metres. He will be competing in London.
He and his coach Abu Kumara were met at Heathrow on Thursday by members of Hastings Sierra Leone Friendship Link, which invited them to stay in the town.
Sesay, who has been training in the USA, is arriving on Friday with the team's boss, while two other members of the entourage will fly in on Monday.
The beginnings of the link began 10 years ago when Sierra Leone emerged from a decade of civil war.
Lawyer Michael Foster, then Labour MP for Hastings and Rye, was asked if the town could raise humanitarian aid for the town of Hastings in Sierra Leone, which had been devastated in the war.
"I thought that even though we were one of the poorest towns in the South East we could help one of the poorest countries in the world," he said.
"So I contacted the local churches and gave them the challenge of helping Sierra Leone."
The link's first project was raising £30,000 to rebuild 12 bridges which had been destroyed. A fundraising drive is now under way to raise more than £100,000 to build and equip a community centre and health centre.
Hastings in East Sussex was officially twinned with Hastings near Freetown, Sierra Leone, in 2007.
The Olympic delegation is staying at the White Rock Hotel on the seafront and training at William Parker Sports College.
Former William Parker head Roger Mitchell, who is active in Hastings Sierra Leone Friendship Link, worked to get its athletics track installed.
Turay begins training on Friday morning, and later children from schools across Hastings will gather at the college for their sports day - attended by special guests Turay and Sesay.
Mr Mitchell said the event would inspire children across the town, many of whose schools are linked with schools in Sierra Leone.
Turay and Sesay, whose travel and participation in the Games are being funded by the Olympic organisation, will move to the London Olympic Village after Tuesday's torch celebrations.
Turay hopes London 2012 will be only the start of his Olympic career.
"This is the biggest sporting event in the world," he said.
"I will get experience that will help me become a better person. Not everyone can become a champion but I believe I will be able to qualify for my country to run in the Olympic Games in 2016 in Brazil."
Related Internet Links
The BBC is not responsible for the content of external sites.