Kite surfers take to Worthing seafront for highest jump event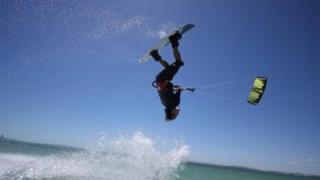 Kite surfers have been vying for points for the highest jumps in an inaugural event held in West Sussex.
The Big Air Open on Worthing seafront was part of the Olympic torch relay weekend, with the flame arriving in the town on Monday afternoon.
The competition, with 36 entrants, was based on a "how high can you jump format", with points awarded for the maximum height reached.
There were 28 heats, each lasting eight minutes with three riders in each heat.
The winner received a cash prize of £800 and the title of Big Air Open Champion 2012.
Pier jumper Lewis Crathern commentated and judged the competition on Saturday.
He lives in Worthing and is a former British kite surfing champion.
Organisers hope it will become "a classic kite surfing event" well beyond the Olympic year.