'Vast' amounts of waste dumped in Arundel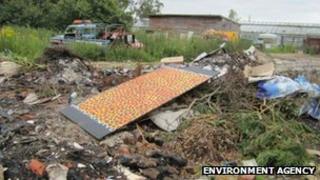 Large amounts of household and construction waste are being dumped illegally at a site in West Sussex, the Environment Agency has said.
Environmental crime officer Nigel Oliver said the "vast amount" of waste included a leopard print board and poster that may identify the culprits.
He said the site at Walberton, near Arundel, was already being investigated for illegal waste dumping.
A further 400 tonnes was dumped there over the past week, he added.
Figures were not available for the amount of waste dumped at the site before July.
Waste dumped at the site in the latest incident has been left there while investigations take place, the Environment Agency said.
'Real problem'
Mr Oliver said the site had seen some of the largest cases of fly-tipping dealt with by the agency.
He said: "This location has been a real problem for us for some time and it's vital that we identify where the items came from and who dumped them there.
"If an innocent party has handed them to a waste contractor for disposal then they will not be in any trouble, but they will have critical information for us to catch those responsible.
"This kind of environmental crime is completely unacceptable as it can cause pollution, harm to wildlife and it creates a total eyesore for those living nearby."
Anyone who has information should either contact the Environment Agency or Crimestoppers.