St Leonards dogs attack: Man pleads guilty after 10 hurt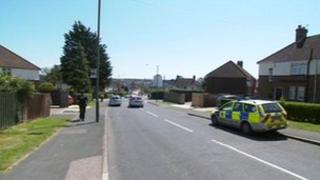 A man has admitted six counts of owning a dog dangerously out of control in a public place after 10 people were attacked in East Sussex.
They needed hospital treatment after the attack by two dogs in Marline Road, St Leonards, on Sunday.
Spencer Brown, 21, of Marline Road, who pleaded guilty to the charges at Hastings Magistrates Court, will appear at Lewes Crown Court at a later date.
Police are seeking permission for the dogs to be destroyed.
Brown also pleaded guilty to possessing cannabis, owning a dog dangerously out of control in a private place in relation to an incident in May, and committing offences during a conditional discharge.
Sussex Police said all of the victims had been released from hospital and two were being treated as outpatients.
The dogs are believed to be Staffordshire terrier-American bulldog crossbreeds, which are not illegal to own.